I remember it well, February 5, 2006 at Ford Field in Detroit Michigan. It was the first Super Bowl for the Seahawks.  We battled hard but ended up losing to the Pittsburgh Steelers. Here's a look at the view that I had from that my seats at the game.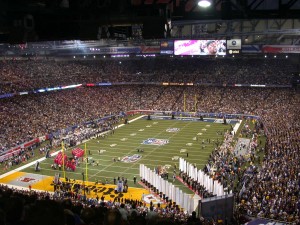 It felt extremely odd to be surrounded by so many Steeler fans. Seattle was thousands of miles away and Pittsburgh was about a 6 hour drive away from downtown Detroit. This was a time when the 12th man was just in its infancy and certainly did not travel as well or in the numbers that we enjoy today. I remember there were some ridiculous calls by the referees. Calls that were so egregious that even Pittsburgh Steeler fans were sheepish about accepting the largesse.
I also remember that it was so cold and the city looked so desolate that it was hard to fathom. I vividly recall being outside the stadium, wearing gloves of course, and pressing them up against a space heater.  Not a good idea in retrospect as I literally ended up catching them on fire. It was really funny and somewhat pathetic at the same time.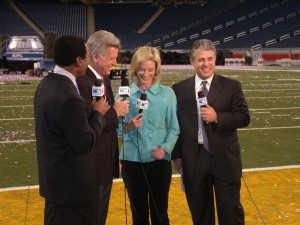 But out of adversity you also can develop a wonderful camaraderie. After the game was over we were allowed to go down on the field. We did a broadcast from there and when we were finished we suddenly realized we had the entire stadium all to ourselves, including the huge platform where the Lombardi trophy had just been presented. How could we possibly resist this opportunity? We immediately went right up on that stage and let out a yell of defiance. It was as if to say:" We were here and even though we didn't go away with the trophy, we will be back". Now we are going back and not just hoping for a better outcome but intending a better outcome.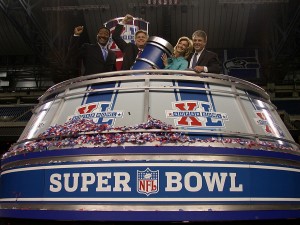 It is also somewhat melancholy to see the picture of Kathi Goertzen, and recall how much fun we all had together. And also recall how much we still miss her. So go Hawks! Let's get it done this time. We are overdue and deserve it as a team and a community.