In case you cannot tell the short guy in the picture is me.  The other guys pretty much don't need an introduction.  So here's the back story.  Every year I play in my good friend and Hall of Fame basketball coach, Lenny Wilkens' golf tournament, which benefits children's charities.  I thoroughly enjoy it primarily because it's one of the few events in which I don't have a role to play.  In this case I just sit with Lenny and his wife Marilyn, enjoy the evening and the next day go out and play my usual round of bad golf.  But this year was different.  I got a phone call literally the day before the event
telling me that the usual emcee hurt his back and would not be able to attend.  So I was asked to take over and run the event.  Then came the "Oh, by the way…" which absolutely floored me.  It seems that this year three members of the original U.S. Olympic basketball Dream Team would be there to participate.
So sure enough they come walking in and Lenny invites me over to meet none other than Magic Johnson, Charles Barkley, and Clyde Drexler.  It is not lost on me that all these guys are legends.  They are Hall of Fame athletes' and the only Hall of Fame  I'm in is the University of  Washington school of Communications.  I have to tell you that they were absolutely terrific, very gracious and when it came time to do the auction they joined me on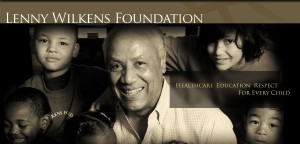 stage and we had a ball.  At the end of the night we raised half a million dollars and I walked away with a keepsake photograph and a little bit of confidence that in a pinch, I can hang with the big boys. (Sort of..)  You can bet I'll be back next year!