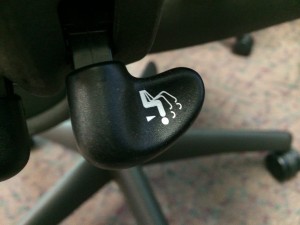 Has this ever happened to you ? You come in to work and  go over to your chair.  You know, the one  you have carefully adjusted to fit your rear end and the proper height for your desk. Then much to your chagrin, you find out that someone has changed all of your settings and the chair is much lower than you expected.  Not to mention the tilt etc.
Not only is that annoying it can be downright dangerous. I happen to believe that there is something akin to radar that resides either in your backbone or your butt that remembers the height at which your rear end should no longer be falling.  If you have not come to rest at the proper height, you panic. You just know you're going to fall all the way to the floor and sit there looking like an idiot with a bruised tailbone.
That's not the way anyone wants to begin his or her workday. I consider this a matter of trust and if you can't trust your chair… your carefully calibrated chair, then what can you trust in this world.
I'm on the lookout for whoever may have adjusted my chair. And when I find out who they are, they too will experience that brief moment of panic as their rear end heads for the floor. That's only fair, right!?"  Now if only I could find out what happened to my stapler.
"I'm just saying'"