I'm sure this happens to you too.  You're running a little late.  You're waiting for the stoplight to turn green and it seems like everybody else gets a turn before you.  Why is it that the red light seems to take several generations to turn green? It makes you wonder who or what is pulling the strings when it comes to traffic lights.
It's frustrating, but after years of careful observation, I think I have figured out a way to get a traffic light to turn green…anytime you want.  As far as I can tell there's only one thing that will speed up the process.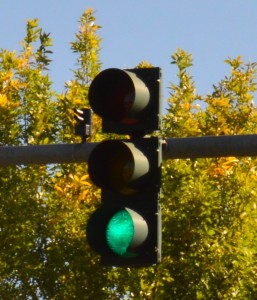 All you have to do is lean over and act like you are going to look  for something in your glove compartment. Without fail the light will instantly turn green. It's uncanny! It's almost as if someone is watching and waiting for you to reach down so they can quickly turn the light green and laugh when all the people behind you start honking their horns. Of course one should  always keep their eyes on the road, so a quick glance will do the trick.
Besides, there's really no reason to ever open the glove compartment, let alone rummage around in there. There certainly aren't any gloves in there, at least not in my mine. The only things I can find in my glove compartment are an owner's manual that is harder to read than Egyptian hieroglyphs and some hand sanitizer that dried up months ago. i.e. no longer a "Wet One".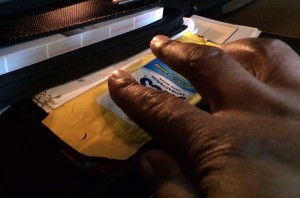 But that's okay. Because I never stress about traffic lights any more. I have my secret weapon, which gives me at least some control over the uncontrollable, or so it seems…
As a final caveat keep in mind that your results may vary and paying attention to the road is always paramount.
Now if only I could figure out if what that strange electronic pictogram on my dashboard is trying to tell me.  And please don't make me look it up in the manual.
I'm just saying…